Original Plants
Titanbicus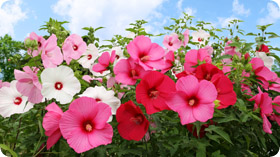 Hibiscus "Titanbicus" is a new variety of plant created by Akatsuka Garden Company, which is a unique hybrid selected species of Hibiscus moscheutos and H. coccineus.
Titanbicus is astoundingly hardy in nature and you can plant it in any place with plenty of sunlight. It is particularly resistant to stress from hot weather so it grows even in places with direct afternoon sunlight. Being rhizocarpous, the aerial part of the plant withers in late autumn except for its underground roots, but will sprout boldly again the next spring and produce giant flowers from early summer. As it is very hardy, it will continue to bloom in summer every year.
Titanbicus can grow miraculously fast. After coming up from the ground in spring, it can reach up to 3 meters high at the end of summer. The peak flowering season is from July thru September. Though each flower opens only for a day, one flower after another will bloom throughout the summer, producing as many as 200 flowers from a single plant. The giant flowers, which are each as big as a child's face (15 - 25 cm in diameter), will richly bloom one after another in the midsummer peak season. Their gorgeous beauty and presence are massive and sublime. Because of this overwhelming presence, amazing power of growth and its Hibiscus-like appearance, "Titanbicus" was named after the great God "Titan".
Chosen for the Japan Flower Selection Award for 2009 - 2010

At the Japan Flower Selection held in Hamamatsu, Japan in 2009, after being strictly juried, Akatsuka's original Titanbicus received the following two awards: "The Special Prize for Color Create" for Titanbicus Bright Red and "The Special Prize for Breeding" for Titanbicus Peach White. Among many new varieties of horticultural plants created every year, Titanbicus has been highly evaluated as a plant in a brand new category which is completely different from all previous varieties.
Certified as Excellent Variety in the World Horticultural Expo (Floriade)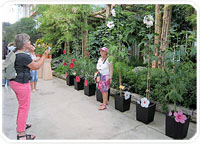 In the Floriade 2012 World Horticultural Expo, 4 out of 5 varieties of Titanbicus were certified as "Floriade Excellent Variety". This Floriade World Horticultural Expo is hosted by the government of the Netherlands only once every 10 years.
Rhododendron (Akatsuka original "Rhodie")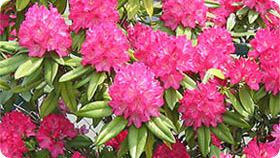 Akatsuka is famous for bringing many of the most beautiful Rhododendron plants to the Japanese market. Rhododendron has been called the queen of flowering shrubs since early times and its beauty full of grace has enchanted many people. As most of the Rhododendrons native to Japan are alpine plants which grow naturally in deep mountains and dark valleys, it is very difficult to bring them into cultivation in lowlands; they are literally "a flower on a lofty height". However, Rhododendrons generally cultivated are Western Rhododendrons of horticultural varieties, which have been bred in Western countries from original species around the world. These Rhododendrons grow faster and are much easier to cultivate than Rhododendrons found in Japanese mountains. They are multicolored, boasting bright and vivid colors, and their colorful beauty is considered second only to roses among flowering shrubs.
Efforts of Akatsuka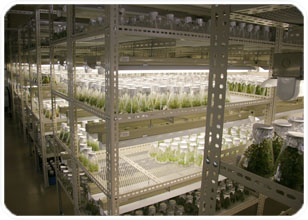 Akatsuka has always had an interest in these spectacular western Rhododendrons and has labored for their introduction and popularization. We followed our vision of wonderful scenery filled with beautifully blooming Rhododendron flowers decorating the landscapes of Japan. For several years since 1972, we had imported a large amount of young trees from the United States of America to start the cultivation. However, the cultivation attempt was a very difficult struggle since many of the varieties had been created in Europe and the northwestern area of America where it is cool in summer. As a result, the losses were great due to low tolerance for the heat of Japanese summer.
In 1981, Akatsuka started our original hybridization process in the spirit that we should create Rhododendrons which matched the climate of Japan. After sowing seeds, we kept the growing environment as harsh as possible to further hybridize the surviving plants. Although it seems very inefficient with greater loss, this is the best way to create sturdy Rhododendrons which can grow with little maintenance. Thanks to this painstaking process, we have succeeded in creating many hardy new varieties of Akatsuka's original Rhodie which can be seen growing all over Japan.