FFC Products
FFC Ceramics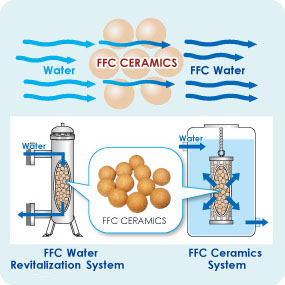 Akatsuka's proprietary FFC Ceramics are produced from special soil with a high quantity of various kinds of minerals. It is then treated using FFC Technology. The ceramics are also made to be porous which increases the surface area so that each ceramic ball can affect even more water. When these special ceramics contact any water, that water is transformed into rejuvenating FFC Water which enhances the function of living things and even helps to prevent oxidation.
FFC Water Revitalization System
The system is designed to transform water efficiently by being installed directly to the plumbing and ensuring that all water will be rejuvenated by contact with the FFC Ceramics.
FFC Ceramics System
In tank type: FFC Ceramics are made to put into the water holding tank. This type does not need plumbing work and is easy to install. The amount depends on the size of the tank and amount of water used.
FFC Ace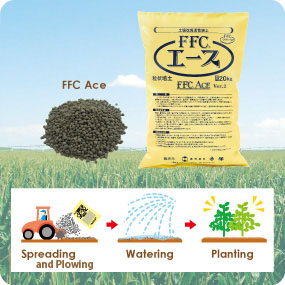 FFC Ace is Akatsuka's proprietary soil rejuvenation product containing important natural minerals, charcoal and a trace of organic substances activated with FFC Technology. This works to activate soil microorganisms leading to healthy decomposition of organic-rich matter and formation of loamy soil. As a result, the soil environment tends to become more fine-textured, deep and moist while developing air permeability and free-draining characteristics. This leads to better crop growth and plants become more tolerant to climate instability and other stresses thanks to increased environmental adaptability.
FFC Pairogen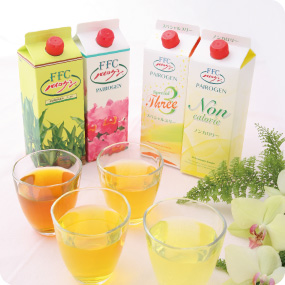 FFC Technology has been used to produce Pairogen for over 30 years. These clean tasting drinks are designed with a good balance of healthful vinegars: Apple Cider, Rice, Persimmon and Plum vinegar. Pairogen has Vitamins B2, B12, and C. It is sweetened naturally with concentrated fruit juice, honey and Stevia leaf extract. Since 1985, people have used FFC Pairogen everyday to promote their health and vitality. It has contributed to the physical wellbeing of all generations from babies to the elderly.
FFC Pairogen has been winning grand gold medals for many consecutive years in the non-alcoholic beverage division of the MONDE SELECTION where food and drink from around the world are judged on their quality and taste.
FFC Pairogen
Loved for over 30 years and offered the delight of healthful life to tens of thousands of people. Contains 4 vinegars (rice, apple, persimmon, plum) plus extracts of rosehip and grape stem.
[25kcal/100ml]
FFC Pairogen Gold
Less sour taste. 4 vinegars (rice, apple, persimmon, plum) are used. Extracts of oriental herbs such as panax ginseng, goji berry, eleutherococcus senticosus, clove and dietary fiber are added.
[25kcal/100ml]
FFC Pairogen Special Three
Mildly sour taste with 5 vinegars including acerola vinegar and extracts of superfruits such as amla, maquiberry and rosehip. Contains 3 kinds of oriental herb extracts and hyaluronic acid and collagen.
[16kcal/100ml]
FFC Pairogen Non Calorie
Developed for those who don't want extra sugar. Flavored with 5 vinegars including mangosteen vinegar and lychee juice. Contains hyaluronic acid and collagen beneficial to health and beauty.
[4kcal/100ml]
FFC Skin Care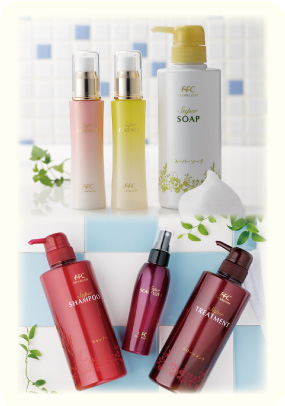 Extended clinical research into the benefits of FFC Water for human skin, were combined with herbal medicines to create FFC Skin Care Products. They are designed to enhance the innate function of skin cells. These FFC Products bring a healthy radiance and smoothness to your skin and hair.
FFC Skin Care Products have been winning gold medals for many consecutive years in cosmetic division of the MONDE SELECTION.
FFC Super Essence (skin care lotion)
Plain type and Moisture type
These 2 types of lotion rejuvenate while bringing a clean feeling to your skin and simplifying your skin care needs. You can use them on your body and your hair as well as your face.
FFC Super Shampoo and Treatment
Chosen by people who are concerned about the negative affects of chemicals on their skin and hair. All FFC hair care products are made eco-friendly. Most of the ingredients come directly from plants and they feature a refreshing floral citrus scent.
FFC Super Soap
Rich, creamy bubbles appear by rubbing this natural soap with a net or sponge. Cover your face and body with these refreshing bubbles. You will be amazed at the gentleness of the soap and the brightness it brings to your skin even after you have rinsed it off.
FFC Super Scalp Lotion
Gently care for your hair with this scalp-specific lotion. The synergistic health effects that come from FFC combined with plant derived nutritional ingredients form a favorable environment for healthy hair.