Branches and Overseas Farms
Ginza Satellite (Tokyo Branch)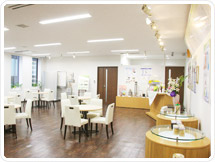 Akatsuka Ginza Satellite is Akatsuka Group's business hub in Tokyo offering information on FFC. Exhibits and panels illustrate FFC Technology in an easy to understand manner. It also has a conversation lounge where visitors can enjoy a leisurely talk. Anyone can sample the wide variety of FFC Products featured here.
[Location & Contact]
Address: 7F Mihara Building, 4-8-4 Ginza, Chuo-ku, Tokyo 104-0061, Japan
Phone : +81-3-5524-8011
Fax : +81-3-5524-8012
Business hours : Open daily 10:00 - 18:00 Closed on Sundays

Fukuoka Satellite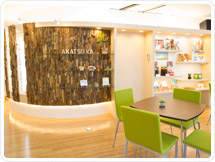 Located within walking distance of Hakata Station, Fukuoka Satellite is a showroom of FFC Technology in a relaxing atmosphere provided by the mist of FFC Water. It offers various events such as skin care lessons for those who want to try FFC products as well as support for those who utilize FFC Technology for personal and business use in western Japan.
[Location & Contact]
Address: Hakata Sta. East Place Building #607, 3-1-26 Hakataeki-Higashi, Hakata-ku, Fukuoka City, Fukuoka 812-0013, Japan
Phone : +81-92-474-5115
Fax : +81-92-474-5117
Business hours : Open daily 10:00 - 17:00 (10:00 - 16:00 on Saturdays) Closed on Sundays

Akatsuka Orchid Gardens, Hawaii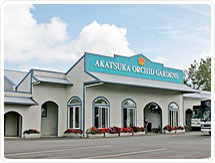 The gigantic green house designed to take advantage of the mild climate allows Akatsuka Orchid Gardens to produce a hundred thousand Cattleya and various other western orchids per year. Orchids are offered for display, sales and delivery along with many other gifts and souvenirs.
http://www.akatsukaorchid.com/
Akatsuka Orquidario do Brasil Ltda.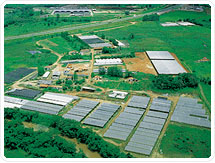 At the farm located in Sao Paulo, Brazil, you will find a wide variety of potted flowers, shrubs and foliage plants being produced and sold. It is being looked to as the pinnacle for mass production of high quality flowering plants.
Akatsuka Nursery Thailand Co., Ltd.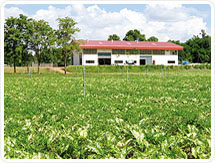 As part of an international economic stimulus project, Akatsuka Nursery Thailand is growing and exporting many kinds of tropical plants such as Miracle Fruit.