Map and Guide
You can click the place names on the illustration map to jump to the explanations.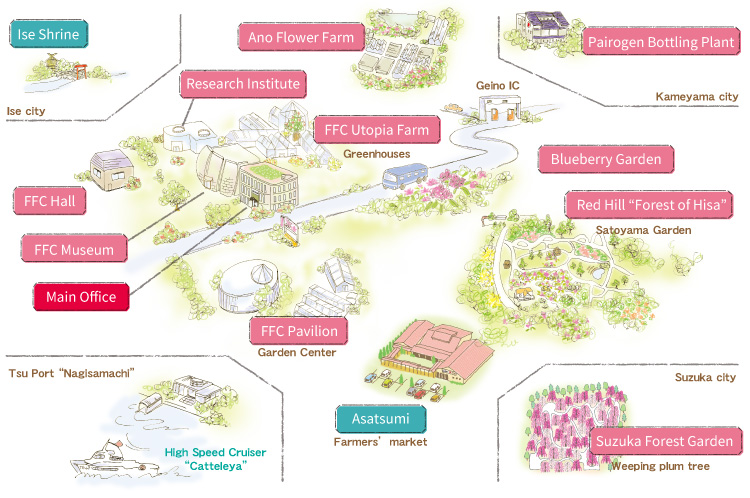 ( FFC Pavilion / FFC Utopia Farm / FFC Museum / Research Institute / FFC Hall / Main Office )
( The Forest of Hisa / Ano Flower Farm / Rhododendron Garden / Plum Tree Garden )
( Pairogen Bottling Plant / Tsu Port / High Speed Cruiser / Ise Jingu Shrine )
Akatsuka Headquarters
FFC Pavilion
A gardening center and flower shop of unrivaled scale and quality. You can enjoy breathtaking displays coordinated with the flowers in season and featuring Akatsuka's best selection of Orchids in bloom year-round. FFC Pavilion also hosts gardening events and gives lessons to help consumers raise the level of their own lawns and gardens. In the adjacent "Gardeners' House" you will find soil, seeds, seedlings of new plant varieties as well as many other gardening supplies. The FFC Pavilion is open from 10 a.m. to 6 p.m. every day but Tuesdays.
FFC Museum
Its unique design resembles both the Earth and a flower in bloom with each separate rounded wall representing a flower petal. The structure embodies the potential for using FFC Technology to improve everything from the concrete to the paint, wood and carpeting to the outer tiles of the building. One area of FFC Museum introduces the amazing 50-year history of Akatsuka Group. Another area displays a diorama showing examples of the wide variety of applications for FFC Technology. Visitors to this facility can learn how promising the future can be filled with FFC. Please talk to the receptionist and feel free to enter and enjoy looking around Akatsuka Group's FFC Museum. An audio guidance in English is available upon request.
FFC Utopia Farm
Consisting of 9 interconnected greenhouses, the three on the far end are for growing and preserving many rare and endangered plants. This large scale greenhouse complex was designed to create a model for providing an organic environment for the elderly to work healthy, happy and productive lives.
Institute for Biological Process Research
This two-story building next to Akatsuka Headquarters is not only the source of cutting edge research on plants, it is also where Akatsuka finds new and better ways to improve the environment and economy using FFC Technology. Kalmia and Rhododendron are also being biologically cultivated here.
FFC Hall
Three-story building with seating for up to 450 people, this is where study sessions and symposiums are held for those wanting to know more about FFC and its limitless applications for everything from drinks to plant cultivation. Many people from all over the nation gather here on weekends to study about FFC.
Main Office
Houses the administrative offices for all three companies of the Akatsuka Group: Akatsuka Garden Co., Ltd., Akatsuka Co., Ltd., and FFC Japan Co., Ltd.
Farms and Gardens
Red Hill "The Forest of Hisa"
Akatsuka has cultivated a village forest near the Headquarters as a Cultivation and Exhibition Farm. Many kinds of flowering shrubs are planted in the village forest, which has long been maintained by people's work to keep it as a natural park of a new age where people and nature exist together. Just 10 minutes from Akatsuka Headquarters, Red Hill "the Forest of Hisa" was produced by Akatsuka to demonstrate how enjoyable the fruits of flowering shrub cultivation can be. The work of people can bring about a rich flowering natural environment. The farm boasts 200 different flowering shrub and other plant varieties. It serves as a natural park. Throughout the spring, you can enjoy over 40 different kinds of Rhododendron in bloom.
Rhododendron Garden
Akatsuka produces popular garden shrubs, mainly large plants of Rhododendron, "shakunage" in Japanese, and Photinia, "Mie Kaname" in Japanese (trade name: Scarlet Pearl). Rhododendron Garden takes up nearly half the ground of Akatsuka's Third Farm, consisting of a Cultivation and Exhibition Farm which includes an exhibition garden of Akatsuka's original Rhododendrons and beautiful forest garden. In Rhododendron Garden, we have raised approximately 3,000 trees of Rhododendrons from 200 different varieties, along with other various beautiful garden shrubs. Visitors can enjoy their colorful and lovely flowers here and there in the garden in each blossoming season. In the spring of 2013, the beautiful season with flowers in full bloom, Cultivation and Exhibition Farm was opened to the public as "Akatsuka Shakunage Garden" and welcomed many visitors.
Ano Flower Farm
Different varieties of flowering plants, including Rhododendrons, Titanbicus, Tropical water lilies and Photinias, are cultivated in the 6 greenhouses and surrounding grounds. In cooperation with Akatsuka's Institute for Biological Process Research, we are working to cultivate beautiful plants here without relying on pesticides or other harsh chemicals. We have obtained MPS-ABC certification, which is an international authentication system for the flower industry, and have endeavored for environmentally-friendly production of plants. Various kinds of ornamental foliage plants imported from Akatsuka Nursery Thailand Co., Ltd. are also raised here so that they can become habituated to the climate of Japan. These are the same grounds where company founder Mitsuo Akatsuka first succeeded using FFC transformed water to save rotting Dracaena "Cornstalk Plants" that had been unresponsive to chemical treatments. Ano Flower Farm is only about 10 minutes from Akatsuka Headquarters.
Suzuka Forest Garden (Plum Tree Garden)
At the foot of Suzuka Mountains, Suzuka Forest Garden was opened to the public in 2014. Suzuka Forest Garden is a new sightseeing spot only for limited periods. Honoring Japanese traditional techniques, these beautiful weeping Japanese plum trees have been cared for and shaped by the "proficient skills of masters". It features a collection of rare and precious weeping Japanese plum trees from all over Japan, the number of which exceeds 200. Many of them are Kureha weeping Japanese plum trees and some are classified in the largest class in Japan. This Garden is designated as a "research and cultivation farm" which enables the Japanese traditional cultivation skills, that have such a long history, to be handed on to future generations. The Garden is open to the public only while the plum trees are blooming in the early spring.
http://www.akatsuka.gr.jp/group/suzuka/
Other Places
FFC Pairogen Bottling Plant in Seki
As many as 60,000 packs a day of the FFC Pairogen series of health drinks are bottled in this one facility. It is located 30 minutes from Akatsuka Headquarters towards Seki Interchange.
Tsu Port Nagisamachi
Built to coincide with the opening of Chubu Centrair International Airport, Nagoya, Tsu Port in Nagisamachi provides easy access across Ise Bay to the airport. Featuring public shopping facilities, it is a nice place to visit even if you don't take the cruise to or from the airport. By car, it is connected straight through to Tsu Interchange along Phoenix Drive and offers free parking. By car or taxi it takes only about 20 minutes to Akatsuka. It takes 35 minutes by bus which does not include the time to change buses at Tsu station.
High speed cruisers Cattleya and Phoenix
These state of the art ships have made it possible to travel across Ise Bay between Chubu Centrair International Airport, Nagoya and Tsu in only 45 minutes at a speed of 30 knots. These 2 cruisers make the crossing 13 round trips daily. In addition to saving travelers time and money, they were built to resist wave induced rocking; saving travelers from seasickness. Their barrier-free design makes the Tsu Airport Line comfortable and fully accessible for everyone including those in wheelchairs. The cruiser Cattleya was donated by Akatsuka Group at the time of opening of the port.
Ise Jingu Shrine in Ise
One of the holiest Shinto sites in Japan. More than two-thousand years ago, the Japanese deity Amaterasu-Omikami was enshrined in Ise Jingu and remains there today. According to 1,300 year old ceremonial tradition, the deity is reseated to the adjacent ground and the shrine is rebuilt in the same style once every 20 years. The breathtaking "Forest of the Deities" has remained natural over 2,000 years with only indigenous varieties of Japanese Cypress, Pine, Fir and Halberd Cedar. It takes about 1 hour to go between Akatsuka Headquarters and Ise Jingu Shrine using the Ise Expressway.