Message
Message from the Akatsuka founder
Improving business and improving the environment are no longer at odds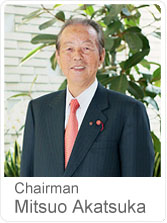 We, as inhabitants on this planet Earth blessed with water and vegetation, have survived and thrived thanks to the benefits we receive from nature and have passed life down throughout generations. We have realized a very convenient and affluent lifestyle through the progress of science and technology. In recent generations, however, nature has had to rapidly transform itself to cope with stresses from its human inhabitants. As a result of continued prioritization of economic development at the expense of the environment, humans have accumulated what in accounting terms would be referred to as "uncollectible debt" to nature. This is adversely affecting us in many ways today. Now, our lives are being threatened by the degradation of the most important thing that nature provides as a necessity for all life on Earth. That of course is water. If you think about it simply, water can be divided into two types. Whether you are giving water to a plant or to a baby, "good water" will help the living thing to grow and flourish and is necessary for all life processes. On the other hand, "bad water" could bring illness and disease.
Throughout my career, I have worked hard to popularize flowers and other vegetation throughout Japan with the goal of bringing a pleasant life to people. That is why I founded AKATSUKA. As I became more deeply involved with improving the health of plants, I came to focus my attention less and less on chemical technology and more and more on nature's technology that can actually improve the function of water. This culminated in the development of "FFC Technology" which is a technique to nurture life through natural processes. (Although I had traveled all over the world and seen the most-advanced science and technology, a technology such as FFC was what I had never experienced before at all. For over 20 years since then, I have concentrated my efforts for expanding use of this FFC.) In all my life, I had never found anything better at bringing life back to living things and have thus devoted my life to expanding the understanding and practical application of FFC.
Today, FFC Technology is utilized throughout Japan as well as other places on Earth. People use FFC for personal and family health in their homes and in every facet of their daily lives. Many industries have also brought in FFC Technology to improve business. Some of the most popular applications involve agriculture, livestock, fisheries, food, clothing, construction as well as in various factories and facilities. They report great value to the safety and quality aspects in these industries. With a large number of documented cases seen across the country, it has become evident that FFC has even had an effect of "rejuvenating the surrounding natural environment". Now FFC attracts attention from various sectors as an innovative and entirely new technology which improves upon our affluent life and economic society while simultaneously improving the environment. Put more simply, FFC realizes "a good balance between environment and economics".
My sincere hope is that, at the earliest possible date, as many people as possible learn about the possibilities of FFC and this movement to rejuvenate spreads worldwide. I know the result will be a restoration of the global ecosystem's natural balance that has been deteriorating more every year. The world should know that it is possible to reverse this trend and finally regain the beautiful global environment.
I promise you Akatsuka Group will work tirelessly to further popularize FFC in order to bequeath not only a beautiful Earth but also safety, security, and an abundant society to future generations. This is what we mean by stating our corporate mission "For All Life on Earth" from the health of the individual to the future of the Earth.
Sincerely,
Mitsuo Akatsuka
Chairman of Akatsuka Group
Message from the Akatsuka president
Cherishing the Connection between Plants, Water and Humanity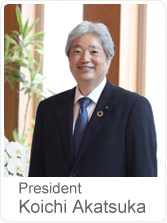 We thank you for your interest in the Akatsuka Group. Continuing the founder's resolve, we are a company which fosters strong bonds. These bonds cherish the interconnection between plants, water and humanity, making it natural that life nurturing FFC Technology will spread throughout the world.
Flowers and Greenery --- Akatsuka Garden Company Limited, the parent organization of Akatsuka Group, has always been active as a leading company in the horticulture industry. We have brought the emotional healing of nature into people's homes through a wide variety of plants such as Mie Satsuki, Mie Kaname, rhododendrons, various ornamental foliage plants, and in recent years, tropical water lilies and Titanbicus. Many of these are our original plants we have developed with great care.
Water --- More than half a century has passed since the founding of Akatsuka Garden Company Limited. By serendipity, in our process of working to produce healthier and healthier plants, we came across a wonderful water technology which drastically improved the harsh environment for plant cultivation. We developed original ways to enable such a wonderful technology to be readily utilized by people in homes as well as in various fields such as agriculture, fisheries and industry. We named it FFC Technology.
Akatsuka Group's corporate mission, which strives to give benefits "For All Life on Earth", can never be fully realized through a company endeavoring on its own. I believe that the most efficient avenue for reaching this goal is to share with people all over Japan and around the world about this FFC Technology and work together with them to make the most effective use of it. Akatsuka Group highly values the human connection and strives to continue to contribute to the global environment by offering healthier flowers, greenery and a very unique water technology to individuals and homes while utilizing a multidirectional approach bringing FFC Technology to industry and the rest of the world. We thank you for your interest in Akatsuka Group and cherish our connection to you and all life on Earth.
Sincerely,
Koichi Akatsuka
President of Akatsuka Group